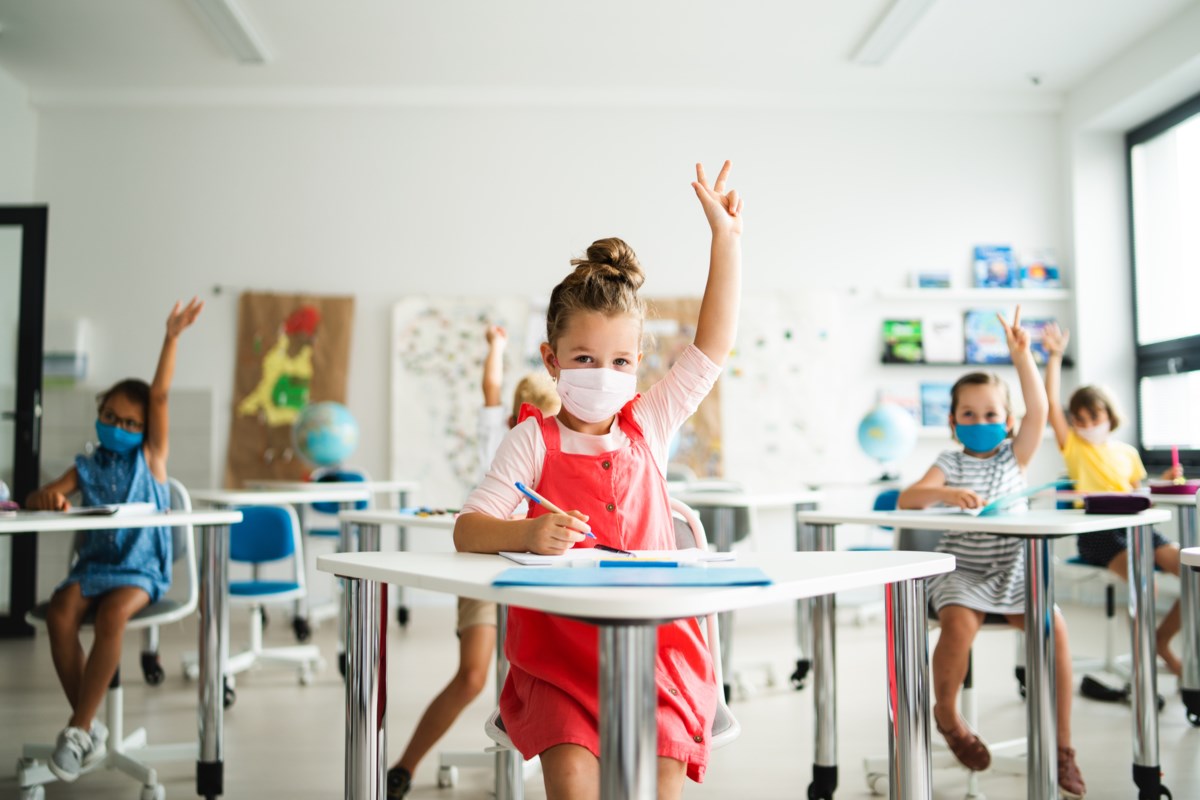 What do parents in Vancouver, B.C. think of masks in schools?
With no mask mandate and kids heading back to school after spring break, the hashtag #CovidIsntOver is trending on Twitter.
Spring break is over, and so is the mask mandate in British Columbia, and as the kids headed back to school, the hashtag #CovidIsntOver was trending on Twitter.
Many spoke out under the hashtag, parents and teachers included, with many stories and concerns about children catching the virus and bringing it home.
Kyenta Martins sends her fifth and seventh grade children, both vaccinated, to school in East Vancouver wearing KN95 masks that stay on all day.
Although she is not comfortable with the idea of ​​sending her children to school, after considering the mental health impacts of keeping her children at home, she says she has feel like I don't really have a choice.
"They were always connected to their school community, and at that time it was the best choice. But for this year, they really need social interaction," she says. Vancouver is great by telephone.
Both children wear KN95 masks and do not remove them inside the classroom, even to eat. Martins regularly comes to take his children out for lunch.
Burnaby Elementary School teacher Jennifer Heighton is just as worried for the children as she is for the safety of staff. She says mask ratios vary from school to school, and while the school she teaches at is "pretty good" with wearing masks, she has heard of other schools with up to 80% unmasked while others report 50% unmasked.
Preschoolers
Children in British Columbia can get the COVID-19 vaccine starting at age five, but those younger don't have a vaccine option available. Parents and teachers, like Martins and Heighton, are concerned about the risks posed to preschoolers attending school and younger children who are indirectly exposed such as toddlers and babies.
"There are people who have chosen not to get vaccinated, but there are people like preschoolers and others who cannot get vaccinated. So what do we do to protect them? I mean, next to nothing," Martins says. "It's a vascular disease, so it can cause heart attacks and type 2 diabetes and a whole host of other side effects or problems in our bodies."
"It's really important that we protect this younger age group, especially with the Omicron variant — it affects younger children more severely than previous variants," Heighton says, citing a CDC study that showed that the Omicron variant sent five times as many children under the age of five to the hospital as the previous variants.
"There is no approved vaccine for them," Heighton continues. "And parents of young children like toddlers are in this very difficult position, especially if they have siblings who go to school. [like] a sibling who is in first grade, for example. This is a concern because if you don't have schools that are as safe as possible, there's a chance you're putting your family at risk.
Ventilation
Martins and Heighton strongly emphasize fresh air and ventilation in BC schools, adding that it is not talked about enough.
"When you talk to people about ventilation filtration, that information about how it can protect people by improving indoor air has not been clearly communicated by our government. And so it's not used," says Martins.
"It takes as much fresh air as possible to dilute any potential virus particles, and that hasn't been addressed at all. So [health officials] removed the mask mandate but did not stress that windows should be open, carbon dioxide monitors should be in classrooms to establish that you are getting enough fresh air, and there should be units HEPA filtration in every classroom because kids can't [distance themselves]says Heighton.
"It's a very busy space. So there are many more children in a classroom than there would be in an equivalent-sized clothing store, for example," Heighton adds. "If you have visited a clothing store, you may only spend a short time there. [in there] and you don't breathe the same air for a [long time]."
According to Heighton, given the inability to ventilate properly, social distancing and low vaccination rates, schools should have been an exception.
Not far away
Keeping tabs on the ongoing COVID-19 outbreak in the UK, Heighton says British Columbia is not far behind. "The UK is about a month ahead of us. They withdrew their mask mandate on February 22. British Columbia's mask mandate for the general population was lifted on March 11; British Columbia schoolchildren returned March 28 after spring break without a mask mandate.
"[The virus] mutated to the point where previous infections don't save you. This is why the UK is in trouble. So that's going to happen here, unfortunately, unless we get that mask mandate back and unless we put the other protections back in place," Heighton adds.
Both Martins and Heighton are members of the Safe Schools Coalition BC, a group of "parents, educators and concerned citizens advocating for evidence-based COVID-19 safety measures in BC schools," as the reads the group's Twitter bio.
The group wrote a public letter to BC Education stakeholders as a call to action, addressing concerns about vaccination rates, "Long-COVID" in children, the BA.2 variant, adequate ventilation and the urgency of returning the mask mandate.