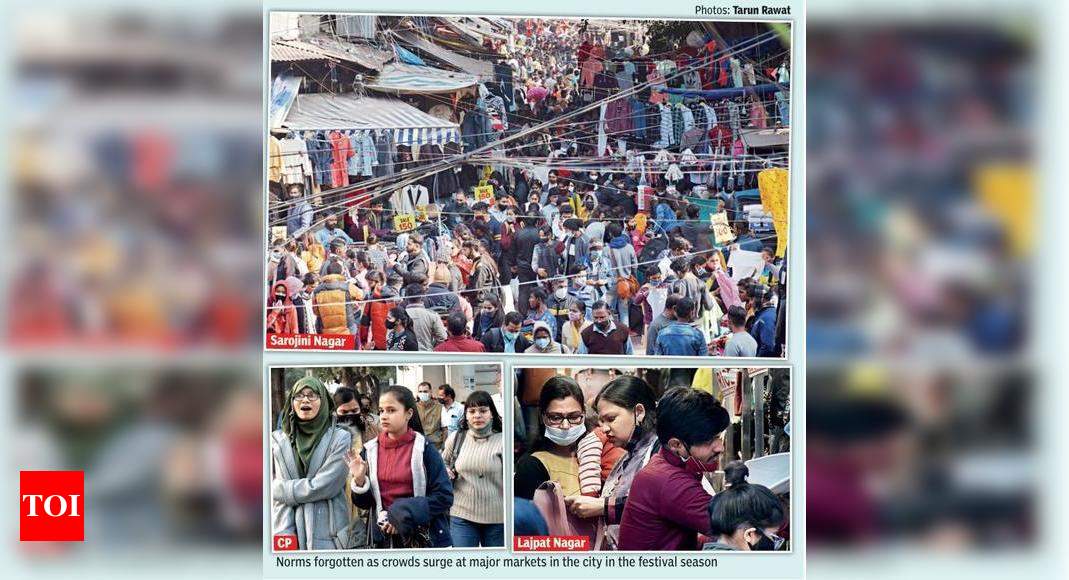 wave of appeasement: markets let the masks slip | Delhi News
New Delhi: Delhi's markets are crowded, but on Friday, like most days, shoppers were seen without masks or not wearing them properly and there was a complete disregard for social distancing. It was as if people had ignored the risks posed by the rapidly spreading Omicron variant of the Covid coronavirus.
At Sarojini Nagar Market, shops and food stalls were surrounded by crowds jostling each other. "Mask? I have one. No problem, I'll wear it," exclaimed Ashok, a salesman, pulling it out of his pocket when YOU wondered why he wasn't wearing one. Ironically, he was selling chaat just below the speakers from where continuous announcements were made about Covid-19 protocols, including the mandatory use of masks.
Ashok was not the only one to dare the coronavirus. "I'm sorry, I just finished eating and forgot to put it back," said architect Amit Jain, who had come with a friend for shopping. "We know there is a threat, we will keep that in mind."
Ashok Randhawa, president of the Sarojini Nagar Mini-Market Traders Association, said resignedly: "The hawkers are a big problem. They do not wear masks even when pointed out to them. We can only ask for them. Enforcement is the job of police and civil defense personnel. As for the buyers, they follow the standards according to their own comfort.
A Delhi police officer claimed that the 10 police officers deployed to Sarojini Nagar booked people for violating guidelines, but added that enforcing social distancing in a market was not easy.
Lajpat Nagar central market was no different. Tushar Gupta, owner of Moonlight, a store there, quickly put on a mask and then said, "We do our best to get customers to follow the rules, but we can't force them. The government has also ordered physical distancing. But if there is no crowd, there is also no market. In addition, it is difficult to wear a mask for 9-10 hours at a stretch, but our employees are all fully vaccinated. "
Here, too, sellers pay little attention to behaviors appropriate to Covid. "I was standing in the sun, so I wasn't wearing a mask. Anyway, see so many others don't wear them either, "was the excuse offered by Satish, displaying socks and handkerchiefs. He defiantly continued, refusing to put on a mask.
According to a police officer stationed at Lajpat Nagar market, traders and vendors have all been urged to be very vigilant against the new Omicron variant. "But I think footfall went down after people heard about the new threat. They are aware of the danger, "said the officer.
In the more upscale heart of the city at Connaught Place, crowds enjoyed the festive atmosphere and ornaments signifying the approach of Christmas and New Years' Day. There was also a feeling of denial. Atul Bhargava, President of the New Delhi Traders' Association, said, "Connaught Place is a spacious open space and 99% of shoppers wear masks. Instead, authorities should keep an eye on densely populated markets. "
But in the middle of the market, in the underground and closed Palika Bazar, many sellers, traders and buyers were walking around with naked faces or masks hanging from their necks. Here, too, there was an air of distrust. Darshan Lal Kakar, president of the Palika Bazaar Traders Association, unmasked, angrily said, "Don't worry, everything will be fine. The media needlessly create panic and amplify the threat. The Omicron virus has reached almost all parts of the world, so it is also expected to reach India. "
At the Tony Select City Walk mall in Saket, south Delhi, staff at the entrances checked masks and insisted on using hand sanitizer before entering the mall. The strict vigilance of the security personnel of the My Square cafeteria only allowed a limited number of people to enter the store. "We are doing our best to limit the crowds inside and we also ask everyone to put on masks," said a security guard.
In Preet Vihar and Laxmi Nagar, in east Delhi, TOI estimated that more than 70% of people on the streets wore masks. Social distancing, however, has been a victim in most places. On Vikas Marg, too, people barely kept the required distance from each other in shops, bus stops and connected market areas. However, in most of the stores there, security personnel checked people's body temperatures, sanitized their hands, and lured people to tell them to wear their masks before entering the stores.
"In a market area, it is difficult to maintain social distances, this also on weekends when the markets are very busy, is difficult," pleaded Mahesh Gupta, who has a store in Laxmi Nagar. "We traders can, at best, ask customers to keep some space between themselves and to follow other Covid standards. But on the main streets, it is the responsibility of the police and civil authorities to act against offenders. "
A drive in the industrial area of ​​Patparganj showed several places where workers were gathered, close to each other and mostly without masks.