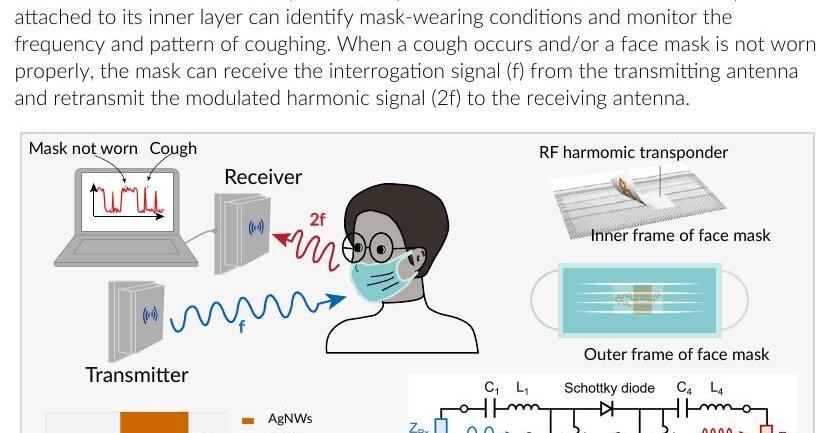 UM researchers develop 'smart' mask to monitor vital health signs | Health
MU researchers are looking for a way to develop a 'smart' face mask that can monitor vital signs based on the nature of the cough.
The smart mask is lightweight, breathable and relies on a battery-free radio frequency transponder, said Zheng Yan, an assistant professor at MU who is working with his team to help develop the innovation.
This differs from traditional smart devices which typically use on-chip sensors. Using an electric patch to monitor health belongs to a field called bioelectronics, which uses wearable technology to alleviate health problems.
The smart mask can wirelessly monitor cough frequencies to give doctors a tool to monitor disease development and provide timely interventions.
It can be used for other purposes, like making sure a mask is worn correctly during a pandemic.
By monitoring coughing and mask-wearing practices, the mask can help contain the transmission of a virus and identify carriers who are contagious.
To develop the smart mask, the researchers used an electronic patch that can be attached to a mask with circuitry and an antenna made of conductive material on a flexible, breathable base.
The electronic patch has two tree-shaped antennas which can receive a resonant frequency signal from an external source and send dual frequency signals to a receiver.
The resonant frequency fluctuates depending on the distance between the antenna and the human body. When people cough, the airflow pushes the antennae away from the face.
So each time a patient coughs, the fluctuating frequency allows healthcare professionals to monitor changes.
Monitoring this data can help doctors understand a patient's disease process and degree and provide more targeted treatment.
This same concept of face to antenna distance changes can be used to identify correct mask placement.
The research team is also working to make the smart mask more affordable for the average consumer for both one-time and frequent use. The mask materials are inexpensive, said Yun Ling, a member of the research team.
"We are now working to achieve scalable manufacturing to reduce their cost so that it can be a one-time use, but it can certainly be reusable if desired," Yan said.
The researchers plan to continue developing the mask and evaluating its commercial possibilities.
"In the next phase, we plan to continue to optimize the performance of the device and its commercial possibilities. It will then seek FDA approval for clinical use, which can take several months to a few years," Ling said.
Ling was responsible for the hardware and development and testing area while Zhilu Ye of the University of Chicago was responsible for testing related to radio frequency technology.
The project was carried out at the Lafferre Pavilion, MU's mechanical and aerospace engineering building.
Other researchers involved in the project include Minye Yang, Liang Zhu and Yadong Xu.