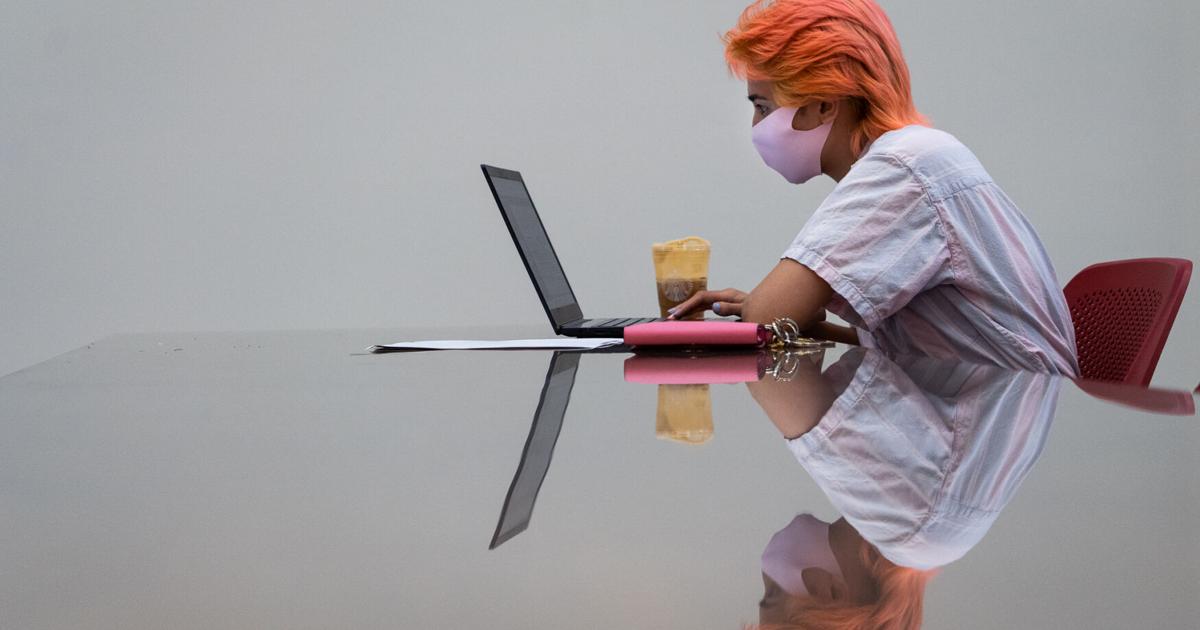 UIS students express cautious optimism for lifting of classroom mask mandate | News
Illinois State University students are widely looking forward to removing their masks in classrooms starting March 21.
ISU President Terri Goss Kinzy announced via email on March 2 that masks would only be required on public transport, in clinical and medical settings and when an event requires them.
Jack Stevens, a sophomore in small business management and entrepreneurship, said it was a good move for ISU.
"I love it," Stevens said. "It's the best thing ever."
Danielle Koska, a fashion management junior, agreed with Stevens. She said seeing the warrant lifted in other campus buildings shows proof of her sentiment.
"They lifted it in Circus and the vibe was lighter," Koska said.
However, some students are more worried. Sean Duffy, a second-year music education student, thinks the move is abrupt and without sound medical advice.
"I will continue to wear my mask because it feels more like a political and social thing than a security measure," Duffy said.
According to McLean County Health Department, the seven-day rolling positivity rate for COVID-19 is 0.6% with nine people hospitalized on Thursday. MCHD reported 90 new cases between March 4 and March 10.
Other students said they remained cautious due to unknown factors. Alana Bailey, a sophomore pre-vet agriculture student, said the proximity of classroom seating is still too close to unmask.
Bailey also shared her concerns about the medical condition and vaccination status of other students.
"I am vaccinated. But I will still wear it to keep others safe," Bailey said.
Although several students have still expressed concerns, many more are eagerly awaiting a sense of normalcy. Emma Quaid, a sophomore in education, said she was delighted to no longer have to wear masks.
"I miss seeing people's faces," Quaid said.
Sophomore Johnny Constante, who specializes in construction management, echoed that sentiment.
"I am very excited. [I'm] thrilled," Constante said. "I want to see faces. We haven't seen any faces and emotions that we've missed in the past two years.
Safety is always a concern for students, even though COVID-19 cases are trending down. Ellie Lynn, a freshman in parks and recreation, said she was cautiously optimistic.
"It's kind of nice to get back to normal, to have a normal school year again. But I'm still a little nervous. I don't want to get sick," Lynn said.
Others believe the UIS is doing enough to mitigate positive COVID-19 cases and student safety. Junior nursing major Caroline Para has been masked for most of her college career.
"I think lifting the mask mandate at ISU is a huge step in bringing campus life back to normal," Para said.
"With the mask mandate lifted by the State of Illinois as well as the ISU requiring proof of vaccination or weekly testing, I believe the school has strongly considered the change and believe they are continuing to push through our safety first," Para continued.
JACK ALKIRE is a photographer for The Vidette. Alkire can be contacted at [email protected] Follow Alkire on Twitter at d.jack_alkire
---
IF YOU SUPPORT THE VIDETTE MISSION to provide a training laboratory for student journalists at Illinois State University to acquire and hone viable, valuable and marketable skills in all phases of digital media, please contribute to this most important cause. Thank you.