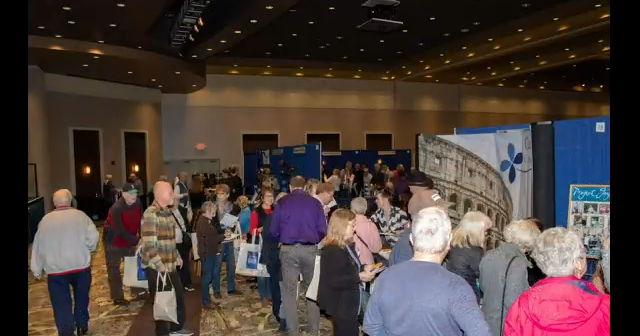 Something for Everyone at the Spokesman-Review Active Living EXPO | Straight from the source
SPOKANE, Wash. – Fashion show ? To verify. Mini Pilates session? To verify. Any tips for decluttering your home? Yeah, that too!
The Spokesman-Review is bringing back its popular in-person Active Living EXPO for 2022. Active Living, designed for ages 55 and older and those who love them, takes place April 23 at the Davenport Grand Hotel in downtown Spokane, from 10 a.m. at 4 p.m. Tickets are only $7 and can be purchased online in advance or at the door (cash only.)
Visitors to the Active Living Expo will have the opportunity to learn about the exciting products and services available from over 50 local vendors, ranging from financial strategies to travel advice. There will also be a variety of speakers sharing information on health and wellness, elder law issues, self-organizing ideas, and more, as well as interactive activities such as a mini-course of Pilates and a fashion show.
Active Living is hosted by The Spokesman-Review, with support from Presenting Sponsor MultiCare Health System Inland Northwest.
"There truly is something for everyone at Active Living," said Kathleen Coleman, director of marketing and business development for The Spokesman-Review. "Who doesn't want to hear about how to tackle the clutter invading your home? I know I know! Not to mention – finally! – seeing some fun spring and summer fashions, after living in fashionable clothes. gray, black and stretchy work. – house wear."
In addition to a free session of MultiCare Physicians discussing topics related to healthy aging, other presentations cover everything from home health care to understanding Medicare.
Entertainment will be provided as well as a free "just for fun" photo booth.
"Our emcee, Claire Graham of KHQ-6, will help guide visitors to booths featuring retirement planners, travel experts, and even The Spokesman-Review's ever-popular Northwest Passages community forum and book club." , Coleman said. "And it's only $7 to attend."
The Spokesman-Review remains committed to the health and safety of our guests, as well as our vendors and volunteers. No mask or vaccine requirements are in place; however, disposable masks and hand sanitizer will be available free of charge for those who feel more comfortable with them.
FOR COMMUNITY CALENDARS
The Active Living Expo, a community event and resource fair for ages 55 and older, takes place at the Davenport Grand Hotel in downtown Spokane from 10 a.m. to 4 p.m. on Saturday, April 23, 2022. Admission is from $7, online in advance or cash only at the door. For tickets or more information, visit www.porte-parole.com/activelivingexpoemail [email protected] or call (509) 918-8439.