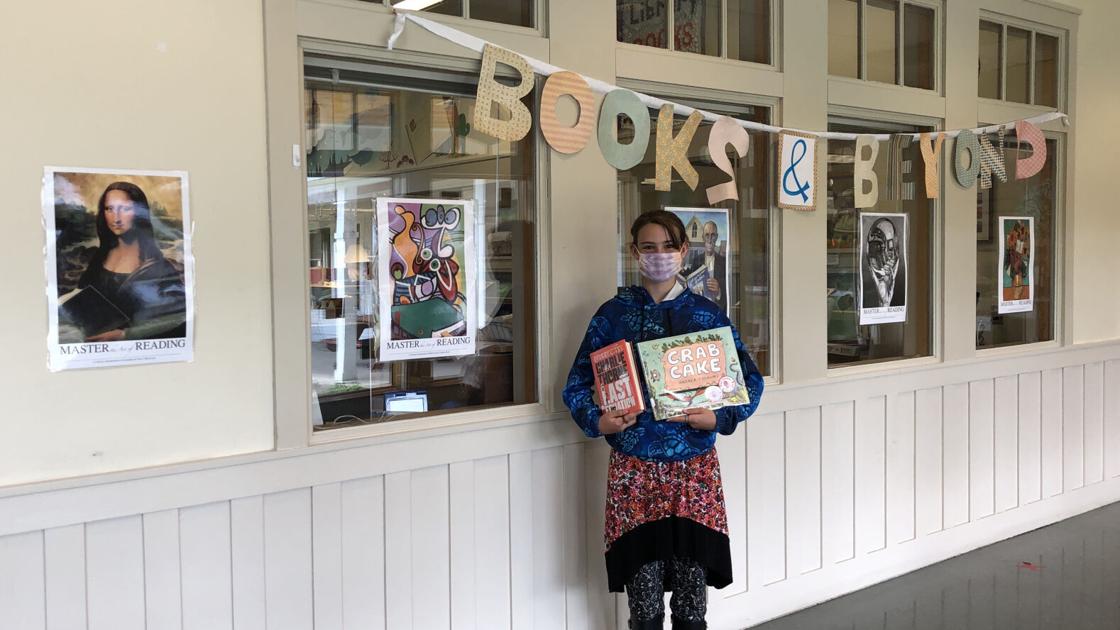 Reading as a performance art in Mettawee | Local News
[ad_1]
There is a power and grace to reading aloud that can only be surpassed, perhaps, by being read aloud by someone else.
Books and Beyond is a Mettawee Community School program designed to engage both students and parents in a one-year program of appreciating the written word.
The pandemic delayed the start of the program until December of this year, but Mettawee's reading community quickly immersed itself in its books and honored its progress in a school-wide ceremony on June 8. .
"In these uncertain times of education, we have to remember that things like fresh air and books are still accessible and essential," said Kimberly Donaldson, reading specialist at Mettawee Community School. "So this year, in particular, we felt it was important for our annual Books and Beyond program to celebrate the gift of reading by exploring the art of reading with our readers and their families. "
A favorite topic this year was exploring the importance – and the fun – of performance reading. The students were mesmerized by the poet laureate, Amanda Gorman, the young writer who recited her poem during the inauguration of President Joseph Biden.
"They saw that reading is more than just speaking out loud. The whole body, especially the movements of the hands and arms, is part of spoken language, "explains Donaldson. "This year, with the mask on, we are enjoying how the eyes can add meaning, and Amanda's performance at the inauguration clearly demonstrated all of that, as well as the power of the break."
After studying Gorman and coaching sessions with the literacy team including Donaldson, librarian Kelly Ahlfe and literacy specialist Lauren Kelly, Mettawee readers applied their new performance reading skills during the celebration by the school of the National Poetry Month. The April All School Virtual Reunion featured a video of students reciting verses from favorite poems using all elements of body language, a volume change, and a strategic pause.
The pandemic has not changed the fundamentals of Mettawee's B&B plan. Progress towards their reading goals was monitored monthly.
A new feature, initiated this year, took advantage of Mettawee's educational calendar during the pandemic. Every day throughout the year, students gathered online for a 30-minute classroom connection meeting with each other. The idea was to use that time to build community during a period of social distancing, and some classes set aside weekly time to talk about the books they were reading.
Later in the spring, students used their transferable skills to explore the art of reading with a gender preference survey. Instructor Amanda Thomas' fifth-grade students conducted a survey to determine the preferred genre of Mettawee readers: fiction, non-fiction, or both. When the results were compiled and analyzed, the winner was almost tied: with 43 votes for "both" and 42 for the "fiction" selection.
"I am very proud of how our students and families have worked so hard this year to maintain Mettawee's reading tradition," said Brooke DeBonis, Director of MCS. "They found innovative ways to advance the curriculum, teach new skills and delve into the books."
Mettawee closed the book on this year's B&B program with an end with a twist. As pandemic guidelines restricted the traditional school-wide assembly, bags of books and new books were distributed to readers in classrooms.
To create a more formal festive atmosphere, students were encouraged to dress in black and white. JK Adams and Cabot Cheese donated wooden platters filled with cheese and crackers. Attendees then sat down to watch an invitation-only online screening of a Kennedy Arts Center program, featuring whimsical and best-selling children's author and illustrator, Mo Willems.
A happy ending (pause) for all.
For more information, contact DeBonis at 802-645-9009.
Bob Niles manages communications for the Taconic & Green and Mettawee school districts.
[ad_2]