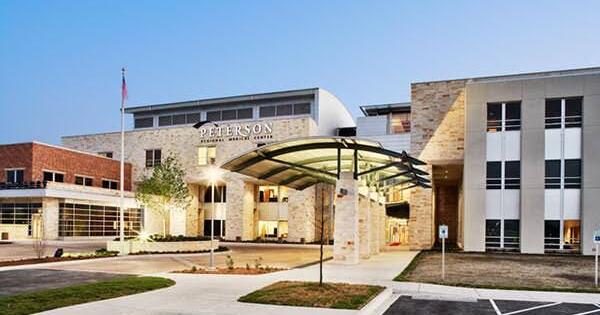 PRMC reinstates mask mandate due to rise in COVID cases |
Due to the current spike in COVID hospitalizations and positivity rate, beginning Wednesday, June 1, Peterson Health will increase the use of face coverings in the hospital.
At the Peterson Regional Medical Center, over the past month they have averaged four hospitalizations a day with a high positivity rate of 5 and 5%, with a high of 7% at one point. Both data points appear to be on an upward trend. Additionally, the state's threshold for high alert on COVID positivity rates is 5%. Kerr County exceeded that threshold.
Recently, CMS updated the language which now states that hospitals and healthcare facilities adhere to additional precautions intended to mitigate the spread of COIVD. Kerr County's level of integrated community transmission has risen from low to high, according to CMS. In order to continue to comply with CMS Additional Precautions and based on the above date, Peterson Health believes it is necessary to appropriately assist our community, patients and staff in mitigating the spread of COVID and creating a safe working environment.
Shares Cory Edmondson, President and CEO of Peterson Health, "Since the COVID pandemic, Peterson Health has been fortunate to be flexible with all the changes that have occurred over the past year. There have been periods of strict adherence and periods of relaxing protocols, while always ensuring the best interests and safety of our patients and the community.
In March, we were able to see a reprieve by removing the mask requirement, while maintaining safety measures and following our transmission-based isolation practices. We were grateful for the time when we were mask-free, but we also accept the changes that need to be made in order to keep our staff, patients, visitors and community safe throughout this ever-evolving pandemic.
Starting June 1, employees in direct patient care areas or identified points of care will be required to wear masks. Staff will continue to screen and test for COVID on admission and screen patients or visitors at the main entrance to the hospital and ambulatory care center. All visitors or guests are encouraged to wear masks when in patient rooms or direct patient areas.
Peterson Health will continue to assess current data, trends, and CDC recommendations as we progress through the pandemic. For any updates or changes, visit the website at HYPERLINK "http://www.petersonhealth.com" www.petersonhealth.com.