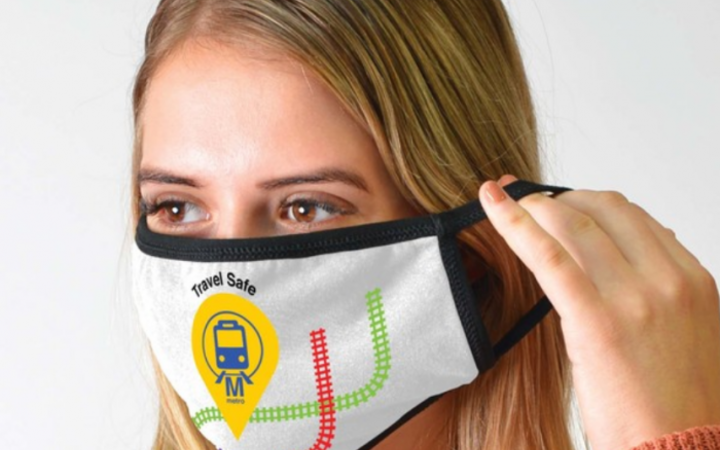 More and more companies are ordering branded face masks for their staff
[ad_1]
Sales of custom printed face masks have skyrocketed after the latest Delta Covid-19 outbreak which saw face covers become mandatory in most interior spaces.
It's a welcome boost for branded companies that lost event work during the lockdown.
Auckland company Custom Gear brands everything from beverage bottles to wet wipes.
But since the country's lockdown on Aug. 17, Custom Gear chief Lisa Gray has said sales of one particular product have increased: the company's branded face masks.
"It's likely that about 50-60% of the work we do right now is all about reusable masks. It seems the Delta variant has made people look a little bit deeper. hospitality and stuff like that.
"We made quite a few masks for customers who are back to level 2 and a lot of them wanted to make sure the thickness of them is the three-ply ply, making sure they have the protections for their staff members, "Gray said.
A day after the nationwide Level 4 lockdown began, Prime Minister Jacinda Ardern announced that masks would be mandatory at all critical businesses that come into contact with customers.
This means that when you visit a supermarket or a dairy, you should cover your face.
Gray said the company has made more than 10,000 custom branded face masks over the past few weeks, for all businesses and for all purposes.
"We're really trying to figure out what exactly they're using it for and who it's for, so we can make sure we're giving them the best option for their people."
Custom Gear has worked with Kiwi Bank, Fletcher Building, 2 Degrees and Fonterra.
She said many companies make branded face masks for their employees because they are environmentally friendly and increase brand awareness.
"If their staff wear them on the bus or when they walk around the stores. It's mainly brand awareness. Wearing the mask is something we have to do, then you might as well try to publicize it. your brand at the same time. "
However, there were supply issues.
"I think we got a little complacent in New Zealand because everything was going so well for so long, so I don't think we had a lot of stock availability when this sort of thing happened. our factories in New Zealand where we source our products, they actually didn't have enough of what we needed, "said Gray.
South Auckland-based Prestige Products director Helen Northey said she had seen a similar increase since the outbreak began.
"There was very little interest before the outbreak, it went from zero to hero overnight, with orders ranging from 100 to 1,000 units."
She said she had a lot of interest.
"Advertising agencies, event planners, traders, real estate, schools, artisans, agriculture and products … from all kinds of different industries.
"One of my clients … an electrician, he ordered masks because his guys are going to be on sight."
Warehouse Group chief human resources officer Richard Parker said that while there were no plans to introduce custom face masks for the company at this point, it was something he had been considering since start of the last epidemic.
"Now we all realize that even if there is no lockdown, mask warrants in one form or another, especially in public spaces, are likely to continue, and I think more and more more companies are going down this path, "he said.
"This is definitely something that we are seeing increasing in prevalence and something that we will continue to examine."
Parker said some of the staff have created their own branded face masks to wear while on the job.
"They did some really cool creative stuff making their own branded masks… we encouraged and supported that, and we think it's awesome."
Auckland will learn next Monday whether the region will move from Alert Level 3 to Delta Level 2.
[ad_2]