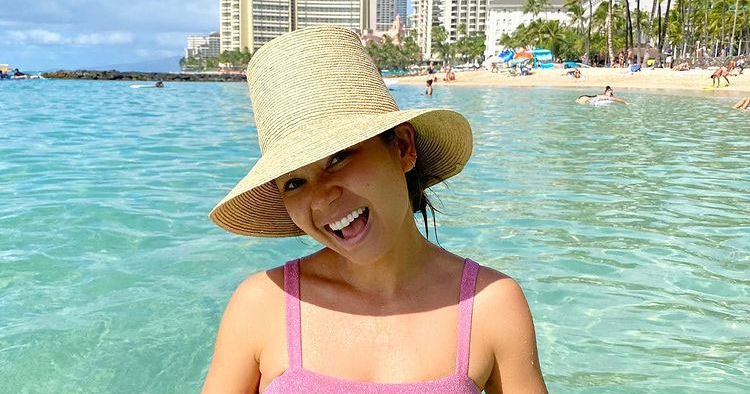 Mikoh's Oleema Miller on sun care and hyperpigmentation
[ad_1]
Photo: Photo: Courtesy of Oleema Miller
Want more skin care? To rejoin the Beauty Group on Facebook.
Oleema Miller is also fond of skin and sun care. It might seem like a contradiction until you consider that she's a former competitive surfer and co-founder, creative director and designer of swimwear brand Mikoh – and just moved to Hawaii there. is one year old. So, "despite my dermatologist's stern advice to stay out of the sun, I refuse to change my lifestyle," Miller says. "The sun, the sea and the salty air center and balance my daily life and bring me more joy than protecting me from the elements of nature. For me, the personal benefits outweigh the potential repercussions.
Miller is prone to hyperpigmentation, which tends to get worse with constant exposure to the sun, but, she explains, "It gets worse because I'm enjoying my life. "Of course, she tries to prevent any potential damage by diligent sun care wherever she can: hats (" I take one everywhere! ") And reapplication of" obsessive "sunscreen (she goes through a bottle in less than a month).
She also upgraded her skin care game around this time last year with the addition of a Skin Care Refrigerator, a mini fridge specially designed for cooling products. "When we were renovating our house, I really wanted to build some kind of oasis that was just right for me," Miller says. "And I built what I call my 'beauty cabinet', with a refrigerator." The refrigerator itself isn't "crazy fancy" or expensive – she found it online – but it's filled with her favorite facial mist ("Caudalie does the best! "), Gua sha (from Odacity), skin roll (of Esker Beauty) and rosehip oil (from Thomas grove).
"At the end of the day I have so much poop on my face from being in the sun and reapplying sunscreen, so I use it as the first step in my double cleanse to remove any makeup, dirt, residue, SPF and all the bad vibrations. It looks more like a really heavy cleansing gel than an oil – the oils can sometimes feel a little too slippery for my taste.
"This cleansing gel has a very clean, almost vegetable scent, and it's super frothy. I know some people don't like it, but I like a good lather because I feel like it really takes everything off my face.
"I love to mask myself at least three times a week and I like versatile products. You can use it as a facial scrub in the shower or as a mask. Sometimes I take a shower and when my pores are open, I leave it on for 15 minutes. I have noticed that when I use it regularly it really lightens my skin. Her # 1 quality for me is that she smells so much of peppermint.
"I can certainly suffer from a product that smells bad if I know it works, but there is also something about using products that smell good, especially since I'm not going to spas too much anymore. They can offer you an aromatherapy moment. This one smells particularly good, like pumpkin. It has more of a jelly consistency, and it's super lightening. Note: your skin will tingle when you wear it – it hurts so much, if you want my opinion. "
"My main skin problems aren't necessarily clogged or blocked pores. I'm more concerned with brightening any dull complexion, and this is just another good brightening face mask with vitamin C.
"After the surf, the sun and the sand, I like the calming nature of this essence. I treat it like a toner and use it with small reusable pads. It's gentle on my skin and removes any leftover sunscreen from the day that I might have missed.
"When I watch an episode of The real housewives, I'm going to apply my night cream, which has helped me a lot with my hyperpigmentation. Even though it contains glycolic acid and turns the cells over, it's still super hydrating and has the heavier consistency that I like at night.
"I look at eye cream the same way I do body products: you probably wouldn't use something you use on your arms on your face, and the eye area is so delicate it needs to be." of its own product (rather than just using your face cream on your eyes). I love this one for the night time but have yet to find a daytime eye cream that I'm passionate about – I've noticed that when I use this one during the day it sometimes makes my eyes runny. mascara because it is oily. "
"It's all in the name. I've used lip products that feel like they go all over the place, or you're like, 'Did I accidentally eat half of it because it's entered my mouth? "It's not like that. It sits on your lips in a really nice way.
"Before each surf session, I find myself looking for my trusty EltaMD sunscreens, UV Pure Broad-Spectrum SPF 47 and UV Physical Tinted Face SPF 41 [below]. Both are reef-friendly and will stay on throughout my session. It's an added bonus that they don't end up in your eyes like most sunscreens do when you're surfing or swimming.
I especially use SPF 47 when I know I'll be just in town shopping or if I'll be on my computer all day. It's super light, so it's super easy to reapply throughout the day.
"This sunscreen is water resistant, so if I'm going to be out in the backyard and jump in the ocean all day, I'll be leaning towards this one. It has a heavier consistency than my SPF 47 [above]. "
"Love this one for the full body coverage. One of my biggest issues with sunscreens, especially aerosolized ones, is that they tend to stick on your skin. There is nothing worse than applying sunscreen, putting on a dress, and smelling the product on your shoulders. This one is really light and almost looks like another moisturizer.
"It's a natural exfoliant that stimulates blood circulation. I like that we can easily travel with it, even if I don't travel much anymore. I would describe it as a pumice stone for your body. It won't give a very deep scrub, but rather, it looks more like the dry brush version of a stone.
"After getting out of the shower, I apply it to damp skin. I've learned that your skin can't be completely dry when you put on something really heavy because it doesn't absorb as well. It is the ultimate hydrating moisturizer; it is nourishing, long-lasting and has anti-aging properties. But it's not for the faint hearted because it's so heavy and rich. I usually only use it once or twice a week because it really needs to be rubbed, and after that I wear pajamas with long pants and a long sleeve shirt. You know when you go to a spa and it smells like plaster with a little mint? That's what it smells like.
[ad_2]