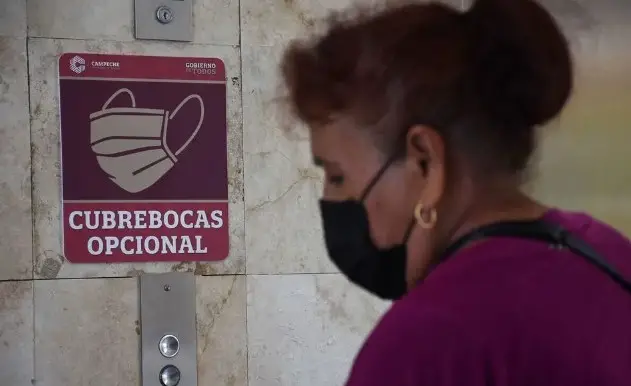 Mandatory use of face masks in Yucatan will now be optional

Merida, Yucatan. The Yucatan Ministry of Health (SSY) has indicated that starting next Monday, September 26, the use of face masks in the entity will be voluntary, with the with the exception of hospitals, health centers and medical units, where it will continue to be compulsory.
According to an official statement, the SSY has also indicated that the state epidemiological traffic light, which is currently green, will no longer be issued, and figures on the behavior of Covid-19 will be updated fortnightly on the state agency website. .
According to data from the same agency, until Thursday, September 22, there are 7 patients in public hospitals; Only 3 new coronavirus infections have been detected and no deaths have been reported.
Since the start of the pandemic (March 2020) and to date, 137,594 patients have been registered with Covid-19, of which 130,385 are already cured; this figure represents 94 percent of the total recorded infections. Of the 137,594 positives, 846 are from another country or state. A total of 7,061 people have died from this disease.
Specifically, in Mérida, the state capital, 88,418 people infected with the coronavirus have been diagnosed and cases have accumulated as of September 21, 2022.
During a meeting of the expert committee, made up of Yucatan specialists in public and private health, and the head of the SSY, Mauricio Sauri Vivas, it was reported that the state is currently presenting favorable data to take a new step. towards full reactivation, Therefore, it has been determined that the use of the face mask is voluntary, except in the aforementioned places, where it will continue to be mandatory.
And it is that since last May 12, the voluntary use of the face mask in open spaces, except in closed places, as well as in public transport, and also the removal of sanitary filters at the entrance of each place and they alone are maintained. when entering schools.
However, it has been recommended, as a preventive measure, to continue this measure in the elderly, presenting comorbidities putting their health at risk or symptoms of respiratory diseases.
Notwithstanding the significant progress against the Coronavirus, the experts reiterated the call to the people of Yucatan to act with great responsibility and maintain basic sanitary habits, because, in the event of a significant rebound in cases, certain measures could be taken. to protect the health of the Yucatecans.
On the State's Covid 19 report, they will be updated, starting Monday, September 26, fortnightly on the SSY website, https://salud.yucatan.gob.mx/
Yucatan Post
Related