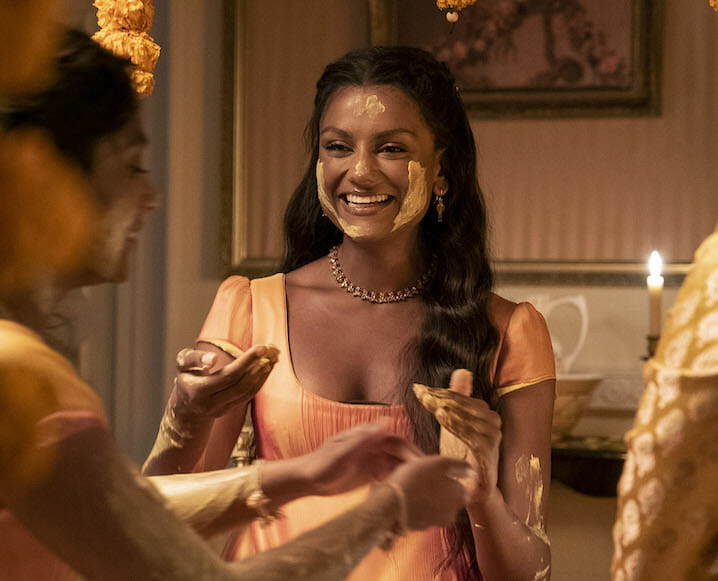 Lisa Mattam on Ayurvedic beauty trends
Ayurvedic inspired Skincare products have been trending in wellness circles for quite some time, but leave it to Netflix to push this trend into the stratosphere thanks to the Bridgerton Effect.
In this year's second season of Bridgerton, Regency London's wildly popular TV show, we follow two beautiful sisters of Indian descent as they navigate the emotional politics of love and marriage in high society.
The sisters prepare for a wedding with a traditional Haldi ceremony, including a turmeric mask which had the show's devoted audience looking for all things beauty ritual.
We asked Sahajan founder Lisa Mattam how the show's popularity affects Ayurvedic beauty brands like hers and shapes public awareness of Ayurvedic skincare. As we chatted, we dug deep with Mattam on everything going on with her own beauty brand, from favorite products to the wellness routines that inspire her now…
Let's talk about the Bridgerton effect first! The turmeric face mask shown on the show got everyone googling. How did the show affect Sahajan? The Sharma sisters and their magnificent portrayal of Ayurvedic beauty routines really amplified the story we told about the tradition of turmeric mask. It also created an incredibly important authentic view of the ritual. Yes, it's done for your best pre-wedding glow, but it's also been long celebrated in South Asian culture and shared among mothers and daughters, sisters, aunts and cousins.
What is the real magic behind the turmeric mask ritual? What are the benefits? Turmeric has long been known for its anti-inflammatory, brightening, and detoxifying abilities. When paired with Holy Basil, aka Tulsi, and the fruit-based AHAS, you have the Ayurvedic antidote to hyperpigmentation. We have reproduced this particular recipe in our Brightening Mask to brighten, minimize the appearance of scars, hyperpigmentation and fine lines, and reveal a glow that's not just for your wedding day, it's meant for every day.
Beyond Brightening MaskWhich Sahajan product are you most proud of? I would say our Nourishing Rich Cream is special to me because it really represents the philosophy of the brand: ancient Ayurveda meets modern science. To me, it's magic in a jar. If your skin is dry, red or prone to eczema, this cream is amazing. It provides results to support the skin barrier, collagen production and minimize fine lines.
I worked with Ayurvedic doctors in my home state of Kerala, India to identify this particular blend. We then clinically tested the formula, with 100% of attendees demonstrating minimization of fine lines and a clinical difference in skin hydration!
What beauty trend are you ready to see go? Cake face makeup. I don't know if that's the real term, but I want to see real skin enhanced with makeup, not a new face created with it.
Which beauty product really changed your skin first? Our Cleansing Essential Oil. How did I not clean with oil before? Because we've included moringa, which has proven to be an anti-pollutant when cleansing, it takes away sunscreen and daily yuck. I've always had a strong moisturizer/serum routine, but changing my cleansing routine has changed my skin.
Sahajan Cleansing Essential Oil
Do you do double cleaning? Yes! I wear SPF and mascara every day, and my first cleanse which is our Cleansing Essential Oil, breaks down all that and other dirt. Then I enter with my Cleansing Golden Milk (inspired by the drink) to unclog pores, hydrate and balance.
Skin care genius:Measure your SPF on your fingers. While most of us finally wear an SPF, we don't wear enough of it. I use at least the equivalent of my index and middle finger, covered with a strip of SPF to know I've had enough.
What are your top wellness and beauty VIP products lately?
+ Axiology Lip to Lid Balmies
+ Saint's black mascara
+ One Love Organics Vitamin D Mist
+ Eugenia Shea Butter Boxes
+ Sahajan Nourish Rich Cream
+ Clevr Golden Milk Lattes
+ Moon Juice Super You.
Beauty technology that actually works: Your fingers! Skincare is meant to be self-care, so a little massage will definitely enhance your skincare application experience. To add to that, a good massage on your face can have a positive impact on muscle tension in your face, reduce the appearance of fine lines, and promote lymphatic drainage. Even if you only have 5 minutes, a little is enough!

The skincare professionals you see: @seeratsaini , @shawtycynthia and @adityamadiraju are amazing because they upped my makeup, skincare and haircare game. @kateydenno, @veronicachu and @itsmatin are skin and makeup pros I'm forever obsessed with.
What is your mission in beauty? To be the golden link between Ayurveda – the science in which I was raised – and modern science, that of my career in the pharmaceutical field, so that I can accompany each person on their journey to find their inner radiance and outside.
I was so proud to be one of the first clean beauty brands to invest in clinical trials, and I think we're going to see more of that.
Share the post "The Bridgerton Effect: Lisa Mattam on Ayurvedic beauty trends"