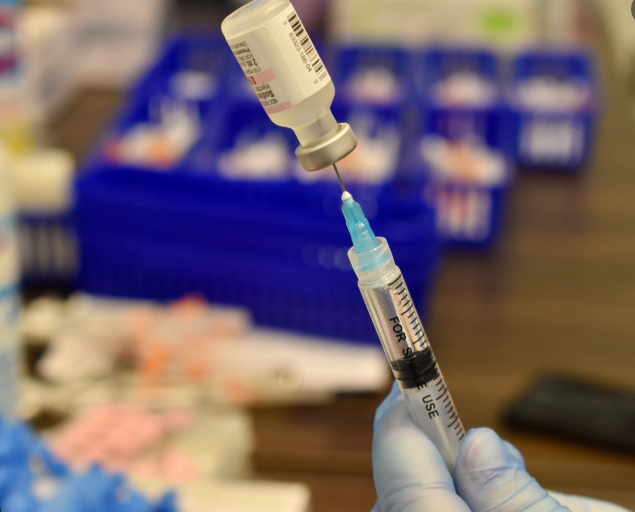 Lawmakers target vaccines and face masks
[ad_1]
By GARRY RAYNO, InDepthNH.org
CONCORD – Several House committees will be busy next session as representatives have asked the legislative services to draft at least 64 requests for bills relating to COVID-19 vaccines or face masks.
Vaccination mandates and the requirement for face masks, especially in public schools, have been controversial of late. President Biden's vaccination mandate for federal employees and contractors, and for companies with more than 100 employees, has drawn fire from Republicans.
In New Hampshire, Republicans on the Executive Council and Joint Legislative Tax Committee have blocked $ 27 million in federal funds to expand the state's COVID-19 vaccination program which has stagnated in recent months with less than 55 % of state fully immunized.
School boards have been caught in the crossfire as some parents and activists oppose students wearing masks at school.
Sununu and Education Commissioner Frank Edelblut said mask requirements were up to local districts to decide.
The vaccine and mask controversy will also travel to the Legislature this session when the House and Senate began work on the bill.
The House window for asking for bills ended last week with 849 bills filled, while the Senate window does not open until next month.
The vast majority of House bills on the subject would prohibit government and private companies from requiring vaccines to enter public places, to work, or to receive services.
Many bills would expand restrictions on the Medical Freedom Act passed earlier this year and signed by Governor Chris Sununu, which allows individuals to determine what to put into their bodies without government intervention.
The bill prohibits requiring vaccinations to access public facilities, benefits or services, but does not replace the current law governing the vaccines required to attend public schools, but that would change under a proposed bill.
The law exempts public or government medical facilities, but a number of bills would amend this and make them subject to the "medical freedom" provision.
Currently, private colleges and universities are not covered by the provision, but would be covered under several bills. Many private colleges and universities require students, faculty, and staff to be vaccinated, but public universities and colleges cannot by law.
A number of bills would also extend the medical freedom provision to private businesses, making it illegal to be required to be vaccinated for employment or to enter establishments, and places of entertainment or the performing arts, that would be banned from requiring vaccinations to attend an event, something many performers now require.
Facilities and medical providers would be prohibited from refusing to provide care or services based on a person's immunization status, in a bill requested by Representative Leah Cushman, R-Weare.
Other bills would prohibit employers from requiring employees to be tested without paying for it, and would prohibit all state, local, and county governments from requiring vaccines and barring access due to the status. vaccine.
People offering public housing would be prohibited from discriminating against the unvaccinated, in a bill called for by Representative Al Baldasaro, R-Londonderry.
A constitutional amendment request proposed by Representative Hershel Nunez, R-Pelham, would include the medical freedom provision in the state constitution.
A bill proposed by Rep. Timothy Horrigan, D-Durham, would repeal the Medical Freedom Act, and another would exempt state university and community college systems from its provisions.
Other bills target the state's vaccine registry, several by Rep. Andrew Prout, R-Hudson. One would establish a procedure to remove your information from the registry and another would require the Department of Health and Social Services to notify certain people included in the registry.
Other bills would repeal the registry, audit it, and make it a registration requirement instead of a withdrawal requirement, while another proposal would abolish the New Hampshire Vaccine Association.
Other proposals target DHHS, such as prohibiting the agency from requiring vaccine passports or writing rules for vaccine requirements.
A bill introduced by House Speaker Sherman Packard R-Londonderry would ban state and local government enforcement of federal mandates on vaccines like those issued by Biden.
A bill proposed by Representative Amanda Bouldin, D-Manchester, would allow minors between the ages of 16 and 18 to decide for themselves whether they want to be vaccinated.
Representative Erica Layon, R-Derry, wants a bill to be drafted that would limit liability for bodily injuries related to exposure to COVID-19.
A comprehensive bill proposed by Representative Jeanine Notter, R-Merrimack, would prohibit public and private entities from imposing vaccination warrants and future stay-at-home orders or curfews; keep the State House open and protect businesses and places of worship.
Other bills would require insurance companies to pay for vaccines and other drugs with emergency approval from the Federal Food and Drug Administration, and protect employees from exposure to COVID-19 at the location of work.
Representative David Meuse, D-Portsmouth, is proposing a bill that would make the first Monday in March COVID-19 Victims and Survivors Memorial Day.
Masks
A number of bills would prohibit school districts from imposing mask warrants on students.
Some would leave the decision to the parents and others would establish a declaration of parental rights which would allow parents to decide whether their child will wear a mask.
Other invoices
A bill proposed by Rep. Jeffrey Greeson, R-Wentworth, would require the attorney general to establish a COVID-19 grand jury to investigate events related to the COVID-19 pandemic.
Another bill proposed by Cushman would allow the over-the-counter sale of ivermectin, while Layon proposes to allow off-label use of drugs, meaning the use of a drug for a purpose other than its use. approved.
The 2022 session of the Legislative Assembly meets on January 5.
Garry Rayno can be contacted at [email protected]
[ad_2]