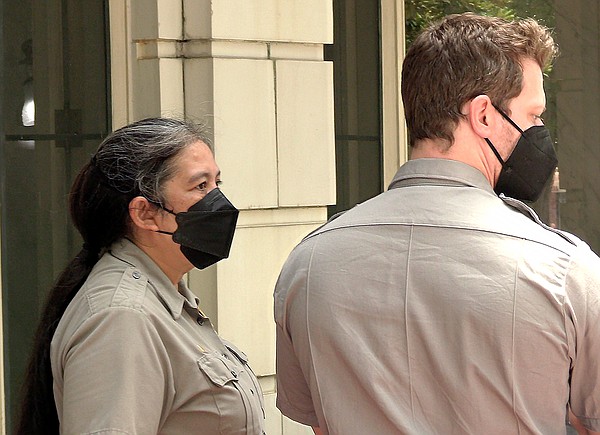 HSNP reinstates mask mandate
Hot Springs National Park announced Friday that it will reinstate its mask mandate for all federal buildings following Thursday's recommendation from the Centers for Disease Control and Prevention.
The CDC upgraded Garland County to a high level of community spread of COVID-19, leading the national park to reinstate its mask mandate.
"Hot Springs National Park is following the CDC and state health officials and implementing a mask mandate for all federally operated buildings," a press release read. "This mandate will be in effect as long as the community level remains HIGH."
The Arkansas Department of Health reports that Garland County has 331 active cases of COVID-19.
Hot Springs City Manager Bill Burrough and County Judge Darryl Mahoney said there will be no changes to masking policies for the city or county at this time.
"We're looking at hospitalizations and our own tally in the city to monitor, you know, what those decisions will be, and right now we have such a low case count in our hospitals, we have a very low case count in the city ​​employees, and therefore we do not plan to implement a mask mandate," Burrough said.
"However, we will continue to recommend and certainly for those who feel vulnerable, they are advised to wear a mask every day if they wish," he said. "But at the moment we are not going to make the decision to have a mandate unless we see significant changes in the numbers."
Burrough said while the numbers in Garland County are trending up, the symptoms that have been noted among city workers have been minor.
"We know the positives are increasing, but what we're seeing is almost like the flu, you know," he said. "There are very few that actually have serious effects. Even within our employees, it's, you know, a runny nose, that sort of thing. It really hasn't had an impact. We We will continue to monitor, and we stand ready to implement a warrant if we see those numbers change or if we see the severity change."
Mahoney said the county has not changed its policy of recommending masks for staff and the public since the end of his last term on Oct. 18, 2021.
"We never stopped recommending strongly — our signage is still in place to recommend wearing masks," he said. "I don't anticipate a warrant coming up, but in our buildings we always recommend you wear one here. Of course everyone has had plenty of time to get a shot and boosters now.
"And what we mainly see with this new variant is that the symptoms are much milder than they were with the first one. So I don't foresee any changes coming. You know, that could always change next week but at the moment has a healthy group here, and we recommend you wear a mask and of course it's always a personal choice to do so so for now we'll stay where we are.
Neither the National Park Medical Center nor CHI St. Vincent Hot Springs have made changes to mask or visitation rules due to the county's improved transmission status.
"CHI St. Vincent has never lifted its universal masking policy for hospitals, so those policies remain in place," said hospital spokesperson Joshua Cook.
"We have not changed our masking policy," said Mandy Golleher, director of marketing and communications for NPMC. "Masks are mandatory for everyone entering the hospital, and I think the most important thing I would add to that is that the hospital continues to be a very safe place.
"We want to make sure that, you know, regardless of the current COVID climate in the community, that people aren't delaying care for anything else they might need, in addition to COVID So our emergency department is open 24/7 and ready to see anyone who needs to be seen.Don't ignore these important symptoms of heart disease, chest pain, any accident symptoms stroke, it's so important to make sure people are seen for these emergencies.
The establishment has not made any changes to its visiting policies.
"Our visitation remains a normal open visitation policy, and all changes and updates we will maintain on our website," Golleher said. "But at the moment these are the regular visits. There are no additional restrictions, beyond what would generally be in place."
The Hot Springs Convention Center is also not making any changes to its mask guidelines, according to Visit Hot Springs CEO Steve Arrison.
"We are going to stay where we are," he said. "You know, it depends on our individual employees. You know, obviously we let them know that the risk level has gone to red, but we're not changing any of our policies at this time."
Employees at the facility were required to wear masks when in groups in the building or meeting with a customer in late May, but Arrison said that policy is no longer in effect. The policy was implemented after three or four employees at the facility tested positive in less than a week.
No changes have been made to National Park College at this time.
"We haven't made a decision yet and will likely wait until the start of the semester to figure out what the fall will look like," said Vice President of External Affairs Darla Thurber. "At the moment we are not enforcing them, but we continue to encourage them whenever there is a surge."