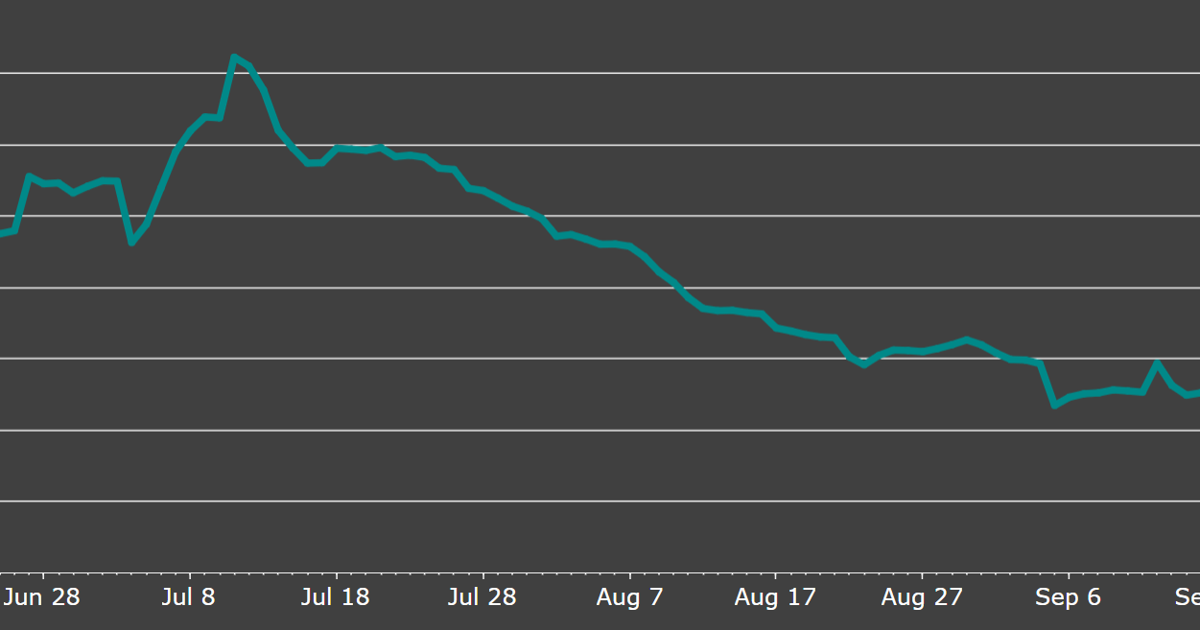 COVID cases trending down in Blaine County | Info Coronavirus Covid-19
Blaine County's COVID-19 case rate has continued to decline since peaking after the winter in early July.
The Idaho Department of Health and Wellness reported Monday that Blaine County's daily seven-day rolling average of new daily cases per 100,000 hypothetical people was 9.9, down from a seasonal high of 52. ,7 on July 12. Both of these numbers are well below the pandemic peak. from 443.7 in early January, when the omicron variant of COVID-19 caused a sharp increase in the number of cases.
Through Monday, the Department of Health and Wellness had recorded 6,847 cases of COVID-19 in Blaine County since the pandemic began, contributing to 32 deaths.
The South Central Public Health District reported Monday that 24 new cases of COVID-19 were recorded in Blaine County during the week of Sept. 19-24.
Last Thursday, the federal Centers for Disease Control and Prevention rated Blaine County's level of COVID-19 community spread as "low." At this level, the CDC advises people to stay informed about vaccines, wear a mask if they have symptoms or have been exposed to COVID-19, and wear a mask on public transportation. People can consider taking extra precautions to protect themselves and others, the CDC advises.
A drop in cases has also been recorded at the state level. In Idaho, the seven-day rolling average daily incidence rate of COVID-19 cases per 100,000 population was 8.8 on Monday, after rising to 36 on July 11, the Department of Health and Health reported. of well-being. It had previously fallen to around 3 in early April. During the push for the omicron variant last winter, the statewide count jumped to around 243.
Hospitalizations for COVID-19 in Idaho have also declined since mid-summer. On Friday, 70 people were hospitalized with COVID-19 in Idaho, up from 196 on July 31.
Through Friday, health and wellness had recorded 494,907 cases of COVID-19 statewide and 5,166 COVID-related deaths since the start of the pandemic. The state recorded 314 new cases of COVID-19 between Friday and Monday.
Earlier this month, the South Central Public Health District kept Blaine County's COVID-19 risk level at "moderate," noting that the county's case rate was "fairly stable" but that his test positivity rate was high.
In its monthly risk assessment released Sept. 15, the health district reported that Blaine County's rate of positive COVID-19 tests was in the "high" category.
The health district has now rated Blaine County's overall COVID-19 risk as "moderate" for four consecutive months.
Because many people are not reporting COVID-19 home test results, the health district said it's possible the case rate is higher than the data shows.
Nationally, the number of daily cases has been slowly declining since mid-summer. The CDC's seven-day daily rolling average of the number of new cases was around 120,000 at the end of July, but had fallen to around 50,000 by Sunday. It had fallen to around 25,000 in March, after the number of new cases soared to more than one million in one day in early January.
Blaine County remains the most vaccinated county in Idaho, with 80.8% of the population considered fully vaccinated. The second highest percentage is in Ada County, which includes Boise, at 62.3%.